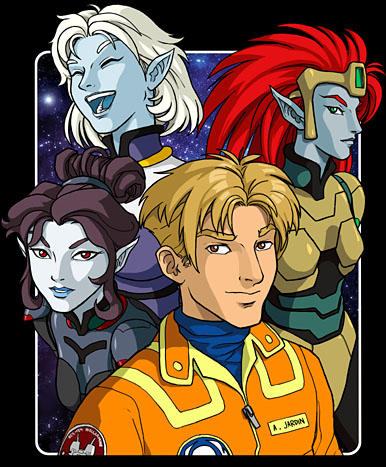 Outsider posts new pages (when available) on Mondays, but updates can be irregular, so I encourage you to use the RSS feed, Facebook or Twitter for notifications if you're interested in keeping up. [WIP Thread]
10 November 2015: A number of readers have suggested that I set up a Patreon page for Outsider, and I have finally done so. My hope is that it may allow me to create pages on a more regular schedule. If you have ideas for pledge rewards that you'd like to see, let me know via the forums, email, Facebook, or the Patreon page.
9 November 2015: New page: 107
31 October 2015: Happy Halloween.
27 October 2015: New page: 106
17 September 2015: New page: 105
Things have been a little bit nuts for me the last few months. I'm hoping they'll be slightly less nuts for a little while. Let's see how much we can get done.
17 May 2015: New page: 104
Also added five new pieces of guest art.
29 April 2015: New page: 103
Well, that was a rather embarrassing additional delay... but here it is.
9 February 2015: Not... quite done yet! I'll post the new page as soon as it's finished.
2 February 2015: I'm delaying the posting of the new page by one week, to February 9th. My recent move put me behind at work, and I wasn't able to make up the time. Sorry for the delay, and I'll see you next week!
12 January 2015: Outsider will resume updates on Monday, February 2nd. I appreciate your patience and forebearance with this long and unplanned hiatus.
31 July 2014: "Whoo-hoo-hoo, look who knows so much! It just so happens that your friend here is only mostly dead. There's a big difference between mostly dead and all dead. Mostly dead is slightly alive." - Miracle Max, The Princess Bride
22 August 2013: Just a note to let everyone know I'm still here, the comic isn't dead. I'm just going through a patch where it's hard to find free time. I'm still working on the 3D sets for the next pages, but hopefully it won't be long before I can resume posting pages.
20 May 2013: I finally got around to converting the Prologue pages to the new, larger format.
17 February 2013: New page: 102
Sorry for the long delay.
17 December 2012: Happy Holidays!
I will try to get page 102 finished as soon as possible. I did post a few updates in Insider.
25 October 2012: There is a review of Outsider up at Liberation Frequency, and they also have an interview with yours truly to go with it.
31 July 2012: New page: 101
I forgot to mention that I did a guest page for Mathieu Moyen's 6-COMMANDO.
14 June 2012: New page: 100
The next few updates may be a bit irregular as I get caught up.
15 March 2012: New page: 99
5 March 2012: Page 99 still isn't finished yet, but in the meantime, feel free to kill time perusing the Registry of Blue Peoples.
20 February 2012: No new page this week. I did add new images to Concepts and Guest Art.
14 February 2012: New page: 98
Happy Valentine's Day.