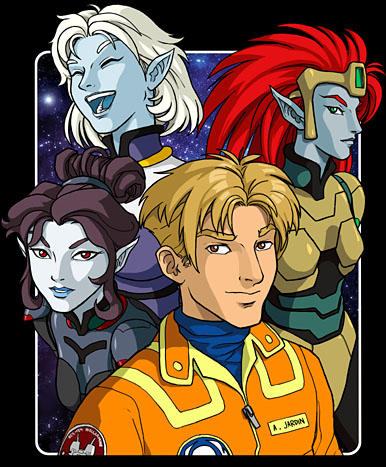 Outsider posts new pages (when available) on Mondays, but updates can be irregular, so I encourage you to use the RSS feed, Facebook or Twitter for notifications if you're interested in keeping up. [WIP Thread]
26 February 2018: New page: 126
5 February 2018: New pages: 124, 125
1 January 2018: New page: 123
Happy New Year!
4 December 2017: New pages: 121, 122
8 November 2017: New page: 120
3 July 2017: New page: 119
Episode 7 of the Spiderforest Podcast is a discussion about creating artificial cultures in fiction, specifically through the lens of constructed languages. The episode includes a discussion between Mathieu Moyen (of 6COMMANDO) and myself about alien cultures and languages in Outsider.
12 June 2017: New page: 118
5 June 2017: New page: 117
I'd like to thank y'all for sticking with the comic through its ups and downs. I appreciate it.
29 May 2017: New pages: 114, 115, 116
If I post 4 pages in a month, that's almost the same as posting every week, right? Right??
1 May 2017: New page: 113
16 October 2016: I apologize for the lack of news posts recently; when there aren't new pages to post, I don't really know what to say.
I have been in crunch mode for the last several months on other projects, and then last month I had an unrecoverable hard drive crash. I didn't lose any of my documents or art files, but I did lose all of my program data, including the 2D and 3D software and all the fonts that I use for the comic.
I have been able to reacquire the fonts I most need (thanks to Comicraft for their assistance), and I am still in the process of reinstalling my 3D software (which is older and requires new keys from the publisher), which I hope will resolved this week.
Thanks again for your patience.