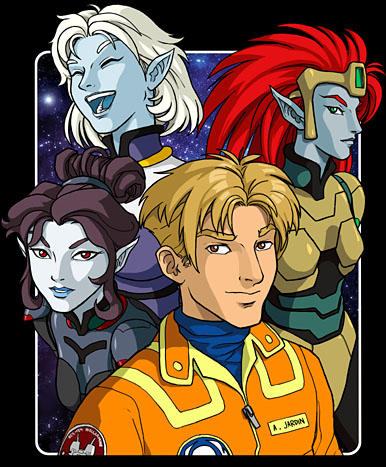 Outsider posts new pages (when available) on Mondays, but updates can be irregular, so I encourage you to use the RSS feed, Facebook or Twitter for notifications if you're interested in keeping up. [WIP Thread]
1 May 2017: New page: 113
16 October 2016: I apologize for the lack of news posts recently; when there aren't new pages to post, I don't really know what to say.
I have been in crunch mode for the last several months on other projects, and then last month I had an unrecoverable hard drive crash. I didn't lose any of my documents or art files, but I did lose all of my program data, including the 2D and 3D software and all the fonts that I use for the comic.
I have been able to reacquire the fonts I most need (thanks to Comicraft for their assistance), and I am still in the process of reinstalling my 3D software (which is older and requires new keys from the publisher), which I hope will resolved this week.
Thanks again for your patience.
4 April 2016: New page: 112
Sorry for the slow pace of updates over the last few months. Trying to fix that.
2 February 2016: New page: 111
31 December 2015: New page: 110
I'll get this update schedule figured out sooner or later.
On a semi-related note: Stars in Shadow, the space combat game that I have been working on, is now up for Steam Greenlight consideration. If you're curious about the game and/or would like to see it available on Steam, I encourage you to check it out.
1 December 2015: New page: 109
Enjoy the wall of text!
30 November 2015: New page: 108
The Patreon launch has gone very well, and I'd like to thank everyone for their generous support. If you check back here tomorrow, I should have a surprise for you.
10 November 2015: A number of readers have suggested that I set up a Patreon page for Outsider, and I have finally done so. My hope is that it may allow me to create pages on a more regular schedule. If you have ideas for pledge rewards that you'd like to see, let me know via the forums, email, Facebook, or the Patreon page.
9 November 2015: New page: 107
31 October 2015: Happy Halloween.
27 October 2015: New page: 106
17 September 2015: New page: 105
Things have been a little bit nuts for me the last few months. I'm hoping they'll be slightly less nuts for a little while. Let's see how much we can get done.
17 May 2015: New page: 104
Also added five new pieces of guest art.
29 April 2015: New page: 103
Well, that was a rather embarrassing additional delay... but here it is.